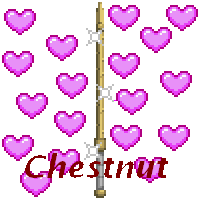 Chestnut is a wooden training pike that belonged to
The Master
before his death.
Construction
Edit
Splint, then an expedition leader, was loath to let his military stand idle when they could be training, and gave Stova the order to craft a set of training pikes so they would have something to spar with. One of these was later given to The Master.

Infatuation
Edit
For some unknown reason, something in The Master snapped completely and he began to treat the pike as if it were a close friend. He was soon never seen without it and occasionally seen to attempt to feed it. This started a strange trend in soldiers becoming very attached to thier weapons and other equipment and treating them thusly. On the upside, they keep thier weapons and armor sharpened, oiled, and polished as a result, with the military often going from blood and viscera caked to immaculate and pradeground worthy in very short order.
Fate of Chestnut
Edit
Chestnut has long since disappeared under the piles upon piles of mugs that have collected in the forress over the ensuing decade. It's entirely possible it's in a state of uselessness due to nobody maintaining it.
THEY'RE COMING TO TAKE CHESTNUT AWAY TO THE HAPPY HOME WITH TREES AND FLOWERS AND CHIRPING BIRDS AND BASKET WEAVERS WHO SIT AND SMILE AND TWEEDLE THEIR THUMBS AND TOES AND THEY'RE COMING TO TAKE ME AWAY TO THE FUNNY FARM WHERE LIFE IS BEAUTIFUL ALL THE TIME AND I'LL BE HAPPY TO SEE THOSE NICE YOUNG DWARVES IN THEIR CLEAN WHITE COATS AND THEY'RE COMING TO TAKE ME AWAY!!